Ring Black Diamonds BLACK POWER
Black Diamond Ring BLACK POWER NICOLS. Media alliance ring with black diamonds claws, in two rows. Made in white gold and rhodium black, black diamonds total weight of 2.35 carats.
Data sheet
Jewels Category

Collection

Collection

Anniversary
Groom
Men/Unisex
Nigth
Wedding Ring

Precious Gems

Black Diamond

Finish

Black Rhodium
Shine

Carat Diamonds ct.

2.17

Ring Size

8
9
10
11
12
13
14
15
16
17
18
19
20
21
22

Jewell Material

White Gold 18kt
No customer reviews for the moment.
Authenticity Certificate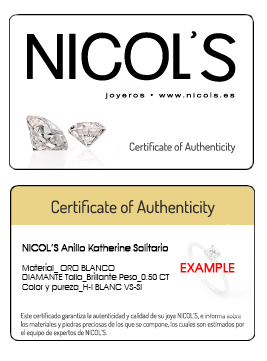 All shipments are insured.
Free Shipping to the Peninsula and the Balearic Islands for products over € 50. *
Cash on Delivery: possibility of payment in cash in Spain under 2500€.
Average delivery time of 4-7 business days.
Approximate Delivery Times:


Peninsula + Balearic Islands orders: 3-7 business days.
European Orders: 5-9 business days.
International Orders: 5 -15 business days.
Pick up in store by appointment.
* The shipping cost for Ceuta; Melilla; Canary Islands; European and international will be calculated according to the address. Customs and duties management costs are not included and the client will hacve to pay them to the shipment comapany.
Shipping Cost in Euro.
Purchase  From            0-500€.     500-1000€        >1500€
Europa Zona 1               21,50€         10,75€                0€
Europa Zona 2               24,50€         12,25€                0€
Europa Zona 3               29,00€         14,50€                0€
Europe Out of E.U          55,00€         25,00€                0€
Andorra                        15,00€.          7,00€                
Africa                           97,00€          49,00€                0€
Asia,Oriente 1                80,00€          40,00€               0€
Oriente 2                       70,00€          35,00€.              0€
North America                57,50€          28,50€               0€
Central America            102,00€          51,00€               0€
South America                71,50€          36,00€               0€