Wedding Ring Rotating LILIT White Gold
This wedding ring with a double ring, one inside and one outside revolving in a flat shape, SOLID in one of our important and most valued models. For its modern and different touch that fits perfectly with the comfort when wearing it that this alliance provides.
If you are looking for classic wedding bands but with a touch of modernity, LILIT wedding rings are the perfect choice.
Manufactured and personalized by hand in the city of Madrid by the master jewelers of our wedding bands workshop and in just a few days, the LILIT pairs of classic white gold wedding bands have such good usability and durability that their value for money it is difficult to match, and for this reason they are the choice of couples every year.
On the other hand, in order for LILIT wedding rings to be a sure success, we manufacture them exclusively and by hand for each person, adapting to the size and type of finger for unique comfort. As each finger is different, you can adapt not only the size but also the width in 5mm, 6mm or 7mm to better suit the tastes and lifestyles of each one.
To find out what your size is, you can click on the Measurement section a little above, although we recommend you come to any of our stores in Madrid so that our expert advisors can help you choose the perfect wedding ring size.
The most comfortable and best-selling Musa wedding band widths for women are 5mm and the best-selling ones for men are 6mm.
The engraving of our wedding rings is included in the price and if our clients want to have a unique experience and take part in the creation of their own wedding bands, we teach them how to engrave them themselves to have an unforgettable memory.
In addition, each pair of wedding bands is presented in a box of alliances that you can use at the altar.
If you have any questions about Wedding Bands and especially the LILIT white gold rotating wedding band, contact us or come and visit us at our stores in Madrid.
Data sheet; Wedding Ring LILIT NICOLS. 18kt white gold alliance ring, flat, with double ring, the upper one rotating, SOLID, with widths to be selected by the client from 5mm to 7mm. Made of 18kt GOLD, with a shiny finish. Choose your size and we will make it to suit you. The recording is personalized for the client.
META DESCRIPTION
CLASSIC LILIT White Gold wedding bands MANUFACTURED and CUSTOMIZED in Madrid IN 5 DAYS in a sustainable way. The perfect wedding rings.
Data sheet
Material

Oro Blanco

Jewels Category

Collection

Collection

Bride

Finish

Shine
Nicols joyeros Madrid 1917 is proud to be one of the few artisan jewelers who crafts jewelty with love in Spain to commemorate the most beautiful moments in people's lives.
Thanks to our know-how and workshops in Madrid we can create and personalize with love handmade engagement rings and alliances; any other tipe of jewel. 
Discover how a handmade engagement or engagement ring is made in Spain.
Authenticity Certificate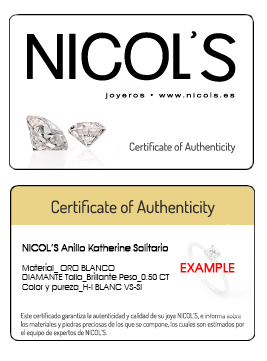 All shipments are insured.
Free Shipping to the Peninsula and the Balearic Islands for products over € 50. *
Cash on Delivery: possibility of payment in cash in Spain under 2500€.
Average delivery time of 4-7 business days.
Approximate Delivery Times:


Peninsula + Balearic Islands orders: 3-7 business days.
European Orders: 5-9 business days.
International Orders: 5 -15 business days.
Pick up in store by appointment.
* The shipping cost for Ceuta; Melilla; Canary Islands; European and international will be calculated according to the address. Customs and duties management costs are not included and the client will hacve to pay them to the shipment comapany.
Shipping Cost in Euro.
Purchase  From            0-500€.     500-1000€        >1500€
Europa Zona 1               21,50€         10,75€                0€
Europa Zona 2               24,50€         12,25€                0€
Europa Zona 3               29,00€         14,50€                0€
Europe Out of E.U          55,00€         25,00€                0€
Andorra                        15,00€.          7,00€                
Africa                           97,00€          49,00€                0€
Asia,Oriente 1                80,00€          40,00€               0€
Oriente 2                       70,00€          35,00€.              0€
North America                57,50€          28,50€               0€
Central America            102,00€          51,00€               0€
South America                71,50€          36,00€               0€
All products are sent with their original box and papers.