Diamond Ring DIAMOND ROSETTE CLASSIC
Conceived and designed in our jewelry workshops in Madrid, the rings with diamond rosettes have been created for urban women who want to enjoy their rings every day. Its rounded arm, and the central rose window with 7 brilliant cut diamonds, allow it to be assimilated to a single stone, and look like a larger size solitaire ring. Total weight of approximate brilliant cut diamonds 0.35 carats.

If you are looking for a simple, elegant, different diamond ring with rosette-shaped diamonds, the CAMELIA ring is one of the most recognized and sought after designs as an elegant diamond ring and of course as an engagement ring for the proposal.< BR>
Simple diamond rosette engagement rings in yellow gold are handcrafted in a sustainable way, so we can adapt and personalize them in a few days to your tastes and lifestyle.

As the size of the rings is important, at Nicols we offer you the possibility of giving a standard size ring and once you get the I LOVE IT! Or the YES I WANT! We adapt it to her finger in three days for free, so she can have the perfect size and wear it every day.
The engraving of all our diamond rings is included in the price and if our clients want to have a unique experience and be part of the creation of their ring, they can, with our help, engrave it themselves to have an unforgettable memory.

If you have any questions about engagement and diamond rings, and especially this diamond and yellow gold rosette model, contact us or come visit us at our stores in Madrid.

CAMELIA Diamond Ring 0.35 Yellow Gold
Reference: 20110202111

Technical Sheet_ CAMELIA Diamond Ring. Simple diamond ring 0.35 ROSETTE DIAMONDS NICOLS. Simple ring, solitaire type, with a top nozzle in the form of a single stone formed by seven diamonds.
An engagement ring in yellow gold that is like a large solitaire, but at an affordable price.
This ring will make you shine with your own light. Made of yellow gold and brilliant cut diamonds. Total weight Diamonds 0.35 carats.
Data sheet
Jewels Category

Collection
New

Precious Gems

Diamond

Finish

Shine

Carat Diamonds ct.

0.35

Ring Size

8
10
13
14
15
16
17

Jewell Material

Yellow Gold 18kt
Authenticity Certificate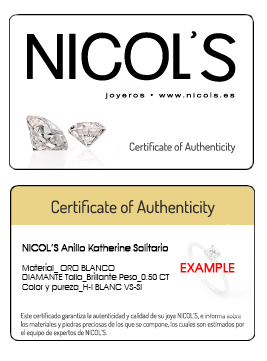 All shipments are insured.
Free Shipping to the Peninsula and the Balearic Islands for products over € 50. *
Cash on Delivery: possibility of payment in cash in Spain under 2500€.
Average delivery time of 4-7 business days.
Approximate Delivery Times:


Peninsula + Balearic Islands orders: 3-7 business days.
European Orders: 5-9 business days.
International Orders: 5 -15 business days.
Pick up in store by appointment.
* The shipping cost for Ceuta; Melilla; Canary Islands; European and international will be calculated according to the address. Customs and duties management costs are not included and the client will hacve to pay them to the shipment comapany.
Shipping Cost in Euro.
Purchase  From            0-500€.     500-1000€        >1500€
Europa Zona 1               21,50€         10,75€                0€
Europa Zona 2               24,50€         12,25€                0€
Europa Zona 3               29,00€         14,50€                0€
Europe Out of E.U          55,00€         25,00€                0€
Andorra                        15,00€.          7,00€                
Africa                           97,00€          49,00€                0€
Asia,Oriente 1                80,00€          40,00€               0€
Oriente 2                       70,00€          35,00€.              0€
North America                57,50€          28,50€               0€
Central America            102,00€          51,00€               0€
South America                71,50€          36,00€               0€
All products are sent with their original box and papers.